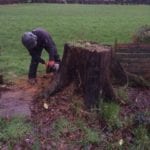 Tree stump removal in Timperley by Wainwright Stump Removal will ensure a tidy and professional service. If you have tree stumps that need removing then you will be glad to know that Wainwright Stump Removal offers the very best prices. Despite having over 25 years of experience in the industry, Wainwright Stump Removal does not over charge for their services. They give their customers immense value for immaculate work. They will tidy up your garden and remove any rogue tree stumps by returning your outside area to a place of order and peace. There are few things worse than having a garden littered with tree stumps that no longer serve a purpose. Wainwright Stump Removal has a long and successful history of conducting world class stump removal. Leave it to the best in the industry and you will enjoy fantastic results.
The benefits of getting in a professional company to carry out quick and efficient stump grinding are huge. Fortunately for those that live in Timperley, tree stump removal is very competitively priced when going through Wainwright Stump Removal. Their expertise and commitment to getting the job done the first time is what has made them the company they are today. The tried and tested methods they use during tree stump removal are done responsibly. The environment is not in any danger at all as these top class professionals work to the highest of standards. They really do possess the Midas touch. Once they have completed the job at hand your garden will look in great shape and better than it ever did before. Their tidy up job will be meticulous and organised, resulting in a garden free of tree stumps.
Wainwright Stump Removal are the leaders in tree stump removal in Timperley. If you would like to find out more about their tree stump removal services, then contact Wainwright Stump Removal today. They are certainly the best around and in a position to provide you with world class tree stump removal at a great price.