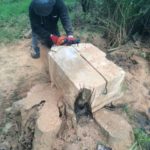 Finding a stump remover in Chorlton can be a bit of a pain to find. You've probably been eyeing that disgusting hunk of wood for weeks now. You've been working hard on your yard, making it look pristine and gorgeous, and the only thing holding it back as this wooden eye sore. Or perhaps it is blocking a patch where you want to put your garden or your children's swing set. Whatever your reasoning, one thing is abundantly clear, that stump has got to go.
If you are looking for help in Chorlton, stump removers that are reliable and trustworthy are Wainwright Stump Removal. Wainwright has over 25 years of experience in the industry, and that means that we can handle any scenario and take out any type of stump. Once we have removed the stump for you, we will work on re-landscaping the area so that your yard is back in the pristine condition you left it in. We are also one of the most recognised stump removal services in the industry, and there is a reason for that. Wainwright is so popular because we strive to provide a stellar customer experience, be quick and efficient in our work, and offer some of the most competitive prices around. We do all of this with a smile. That's because we care about our customers and their needs. Whether you are a residential or commercial customer, you will receive the same quality of work and friendly demeanor that all of our customers get. Wainwright also holds all the appropriate NPTC certificates and are fully insured, so you know that we are properly trained for the job. And, should anything go wrong, we will be there to back you up.
For stump removers in Chorlton, there really is no other option other than Wainwright Stump Removal. Contact us if you are looking for a stump remover. Our well-trained and friendly team will have that eyesore out of your yard before you know it.