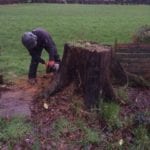 A stump grinder in Wilmslow sometimes has the regrettable job of cutting down a beautiful tree. If you have had to remove a tree for whatever reason, stump grinding may become necessary. This is because the stump is often able to re-sprout, and these sprouts can grow quickly. It can be fairly easy to cut down a tree, but tree stumps can be quite difficult to remove, and this is when a stump grinder becomes useful. The machinery used is able to grind up the stump as well as the root system to ensure no re-growth occurs. Wainwright Stump Removal operate in the North West  and have more than 25 years' experience in the industry. Rod Wainwright who established the company, is an experienced, fully insured tree surgeon who has all the necessary NPTC certificates to ensure safety and quality with every project undertaken.
If you want a quote from this very able team, why not measure the diameter of the stump? In Wilmslow, a stump grinder appreciates this information as it gives them an idea of the correct machine to use and how quickly they can get the job done. The stump grinding team will arrange a date and arrive with the machine that will tackle the stump. Operators of the machine are fully insured and also have the NPTC Level 2 Certificate of Competence in Stump Grinding Operations. The grinder machines will remove the stump to 600mm below ground level. The grindings are great for using as mulch, but if you want the grindings removed, let the team know and they'll remove them.
If you want a reliable stump grinder in Wilmslow, why not call Wainwright Stump Removal? They will provide you with a free no-obligation quote. Contact Wainwright Stump Removal today to find out more about the stump grinder services they have on offer. As a reliable and professional company, they'll get rid of the tree stump causing concern and leave your place neat and tidy afterwards.