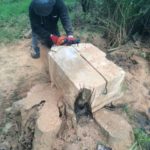 Having been in the business of tree stump removal in Timperley and surrounding areas for more than a quarter of a century, Wainwright Stump Removal are the leading specialists. We offer a comprehensive range of services, including stump grinding and removal of tree roots. Our professionally trained and qualified team has successfully carried out major and minor projects for schools, domestic and commercial customers, landscapers, property developers, and insurance companies. Wainwright Stump Removal is owned and managed by a professionally qualified, experienced tree surgeon who has wide ranging experience in trimming, pruning, planting, and tree surgery.
We can undertake removal of any size and kind of stump, whether it's a tiny back garden or a large commercial property. In Timperley, tree stump removal ensures that the tree does not grow back in the same spot again. If roots are left behind in the earth, they may begin sprouting again. This is a problem that landscapers and property developers face when tree stumps are not completely removed. Some trees may pose a threat to nearby buildings, they may be old and cause a safety hazard to people and property, or they may not fit in with the design envisaged by the landscaper. Whatever the reason for felling trees, it should be done by professionals and followed up with a complete stump removal and grinding.
Tree stump removal in Timperley is also necessary to prevent the stump from becoming a habitat for insects and rodents. Fungus and other infections could spread through your grounds, lawn and garden through old and rotting tree stumps. This can be a huge problem, leading to large expenditure and time needed to get your garden back to its original state. For assistance with tree stump removal, contact Wainwright Stump Removal. Stumps are a danger to children and older people who could trip over them. We conduct an initial survey and only then do we provide you with a detailed quote. This helps us to analyse the problem thoroughly based on accessibility, location, equipment and effort required.  We are fully insured, have all the relevant NPTC certifications and we use only the latest tools, equipment and technology.