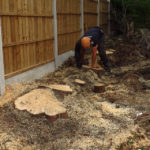 For all your stump grinding in Winsford, contact only the best tree surgeons at Wainwright Stump Removal. It can be a hassle having a tree being an obstacle in your path, or if the tree is too old, it might be time to just get it removed. However, while it may be possible to undertake the job yourself, there are dangers associated with removing a tree and then the stump. The stump is the bottom piece that's left of the tree after it's been cut. It may be even harder to remove when compared to felling a tree.
If the stump causes any sorts of issues in Winsford, stump grinding is the best method to have it removed. Our team is trained and have the necessary certification. We also use different sized machines to tackle different types of stumps. Our machines include those that can navigate through narrow pathways, and those for tree stumps that are larger or of a harder type wood. If you think that you might require professional help, don't hesitate to reach out to our well-trained team. If you would like a more accurate quote or procedure on how we will remove the stump, do send us pictures of the stump and if possible, let us know the type and age of the tree. This will help us determine how best to complete the job. Apart from that, our list of services includes clearing lands, undertaking tree work and planting and other tree-related services.
Don't hesitate to reach out to us should you have any questions about stump grinding in Winsford. We have been in the business for over 25 years and are confident enough that our years of experience and tools that we have at our disposal will be enough to tackle any garden issues that may crop up. We offer efficient services at very competitive prices. For any further details, don't hesitate to contact Wainwright Stump Removal. We are a well-established company, backed by years of services and a trusted pool of clientele.