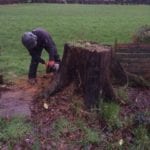 Not all services for tree removal in Northwich will also remove the stump. Likewise, not all stump removal companies will first remove the tree. For a comprehensive service call Wainwright Stump Removal; we do it all. Felling trees and grinding stumps is noisy, messy and hazardous which is why it should be left to the professionals. We are certified so we carry liability insurance which protects you. Our experience and training protects us. Safety equipment gets better by the decade and we invest in the latest and best to protect ourselves and those around us. The right equipment is critical but training in its use is key to the safety of life, limb and property. In a tight situation with little room to navigate, accessing the tree may mean minimum equipment and maximum skill. We're ready for it no matter where it is.
Are you ready to build on your property and need a few select trees removed with stump removal? In Northwich, tree removal is just the first step for Wainwright Stump Removal. The trees are brought down and smaller parts are tossed in the wood chipper and larger sections stacked. If it's good hardwood, you might want it cut into cord wood and stacked to dry for fireplace or campfire use. If not, we'll get rid of it. The next step is grinding the stump below ground level so it doesn't grow back. We have three different sized machines for use depending on the need. Now there's a hole in the ground that is easily filled with all the wood chips the grinding has generated. Keep the leftovers or we'll haul them away for you.
You can trust your tree removal in Northwich to our well trained and experienced team at Wainwright Stump Removal. With 25 years' experience our reputation is well established in the North West. We promote a range of tree services that includes felling and stump grinding but also tree surgery and new plantings. Certified by National Proficiency Tests Council (NPTC), we won't disappoint your confidence in us. Contact Wainwright Stump Removal when you need tree removal. Our team is professional at all times with customer service and satisfaction our goal. We are prepared to clear one overgrown or dead tree from your garden or a whole field of trees for new construction.