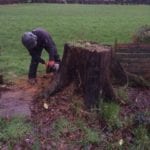 Occasionally Wainwright Stump Removal is called upon for tree stump removal in Handforth. Sometimes on larger properties trees die over the years and are felled and left. Some will use the old wood for fires. Since the land is not in use except for taking a walk or camping out the old tree stumps cause no problems. Sooner or later some family member or building contractor wants to reclaim the land for a new home or to landscape so it is an asset for the landowner. Once the land is cleared of debris we can get in there with our equipment and take out all the stumps. They are usually in all shapes and sizes and at various levels of decay.
Vacant land owners do not remove the stumps just to clear the land. In Handforth, tree stump removal is a way of keeping the land healthy too. What we usually find around each stump is multiple tree shoots and they are going to keep growing if we don't remove the stump. What we do is grind each stump down to about six inches below ground level. Then we fill the hole we just made with some of the wood chips and soil. That gets rid of the stump, the hole and prevents any shoots from taking root. Some of the holes are very large after we grind down the stump. Large or small, after we fill them in we level the ground over and around so there is no hazard and the area looks clean.
When Wainwright is used for tree stump removal in Handforth we usually have a lot of woodchips left over. The landowner is often glad to have them for use in landscaping projects. However, if not, we haul them and any other debris away. When we are done the area is clear and ready for whatever comes next. We have a long history of professional service in the area. Contact Wainwright Tree Stump Removal for your tree stump removal project and we will offer you a fair price, even in areas difficult to access. We are fully equipped with the needed tools and machinery to remove any size stump from any location.