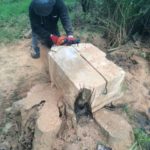 Despite the numerous creative things that you could turn a tree stump into, sometimes stump grinding in Alderley Edge is the best option. When you have cut down a tree that was dying or was obstructing the pathway, then the stump would be left after the tree has been felled. However, to remove it completely is a different process where you will need experts and their equipment. Obliterating a tree stump by yourself is time-consuming and will require a lot of patience, not to mention that you could be in for surprises you could not anticipate.
At Wainwright Stump Removal, we have over 25 years of experience in stump grinding. In Alderley Edge, stump grinding requires the equipment necessary to complete a project within the shortest amount of time. We understand how stubborn a tree stump can be, and that different types of trees will have different types of wood and roots. If you want them removed completely from the roots, do inform us so that when we come, we will bring all the necessary equipment. With the grinders that we have, we are able to remove a stump from 600mm below ground level. You may use the grindings to fill any holes that you have or you may even use them as mulch. Mulch has a number of benefits which you will find are useful for the soil. It helps retain moisture, it maintains soil nutrients, it prevents soil erosion and so on. A lot of times, people tend to throw away the grindings not knowing the amount of benefits it has for their existing plants and trees. Once our technicians have obliterated the tree stumps in your garden, you can use the grindings to place around your plants and trees.
For stump grinding in Alderley Edge, our operators are fully insured and have NPTC Level 2 Certificates of Competence. Contact Wainwright Stump Removal should you require assistance with stump grinding. Let us know about the size of the tree, the species and accessibility. The more information we have, the more prepared we will be when we come to remove the tree stumps.