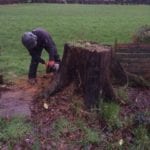 Wainwright Stump Removal has been carrying out tree stump removal in Didsbury and the surrounding areas for twenty-five years. We have built our excellent reputation throughout Cheshire, Manchester, North Wales and Lancashire. We have adhered to the commonly held philosophy for success which is "Do one thing and do it well". Some might think that the tree surgeons job and the stump remover's job are interchangeable. While they do have trees in common, the two skills require different expertise and equipment.
Wainwright Stump Removal is licensed and insured, and our certifications are up to date and available to customers. In Didsbury, tree stump removals come in all shapes, sizes and locations. Wainwright Stump Removal is equipped for all of them. Sometimes it is okay to leave a stump to decay on its own. If it is in a natural setting where it will not present a hazard to people or other trees and plants it could be left alone. Most of the time, it is best to remove them for those same reasons. Frequently, when a tree falls, the property owner or municipality will want to replace it with a young tree. For that, the stump has to come out. We are willing to plant the new tree for you. When trees are removed to make way for new construction it has to include the stump as well.
Tree stump removal in Didsbury is usually a quick process. At Wainwright Stump Removal, we have an awesome large machine designed for massive stumps. Large or small, we grind down below the ground surface far enough to make sure the root system dies. For large stumps, that leaves a big and deep hole. We fill that in with the wood chips from the stump and add soil. The whole area is then cleared, levelled and readied for new landscaping. Our machines are maneuverable and get into tight spaces alongside fences and buildings. Occasionally, it just cannot be done without causing damage. We can still get the job done using hand tools if necessary. If a fence section has to be removed, we will reinstall it after the stump removal. For more details about tree stump removal, contact Wainwright Stump Removal. We are professionals who carry out our work with integrity to the customer's satisfaction.