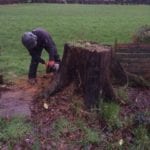 You will need stump removal in Handforth to remove an eyesore tree stump. And we believe with our long years in the field and our team of trained experts, we are the right company to help you. When a tree is cut, it is done quite close to the ground but most of the time, there is a stump that is left. While some people might not be bothered with it, others might want it removed so that they can install a porch, a garage and so on.
In Handforth, stump removal services can help you get a clear lawn without any unsightly obstruction. Moreover, if you do want the tree to grow shoots again, it is best that you give us a call at Wainwright Stump Removal so that we can deal with the stump at its very base and make sure that it does not grow again. When you are giving us a call, it is a good idea to mention the type of tree that you want us to obliterate. This will help us in determining the kind of equipment we should bring as some sturdier trees might be harder to remove than others. If you are not too sure, sending us a picture by text will help as well. If the stump is located in a fairly inaccessible area, do not worry, we have the equipment to remove stumps that are located in areas where access can be an issue. There are times when the owners might be worried about utilities but we want to reassure you that we are fully able to handle such delicate situations.
We are a reliable and professional company when it comes to stump removal in Handforth. In fact, we specialise in this field in the hope of helping clients get rid of trees stumps which can prove to be a bigger nuisance really. Our teams are friendly and we pride ourselves on providing a thorough and neat service at a price that is competitive. If you are interested, we also provide site clearances, log and briquette delivery and tree work and planting. For more details about stump removal, do not hesitate to contact Wainwright Stump Removal.