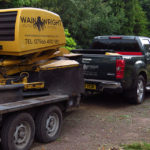 Call Wainwright Stump Removal for tree stump removal in Bramhall for professional service done right the first time. We have seen you out there with your chain and pick-up truck, ready to pull that stump out yourself. You have half the garden dug up all around the stump. We probably charge less to remove a stump than the auto body shop charges to replace the bumper and hitch on your truck and repair those scratches on the tailgate. At least nobody is badly hurt. The pain in your arms and back will probably subside.  The formula for a job well done is the right professional plus the right equipment. Wainwright Stump Removal exceeds that basic formula with the addition of years of experience, a reputable tree surgeon, excellent customer service and affordable pricing.
In Bramhall, tree stump removal is a logistical impossibility unless the right equipment is used. Wainwright Stump Removal owns machines to tackle any sized stump. Tree stumps are often close to property lines, near fences and in hard-to-reach areas. We sometimes have to depend on additional physical labour and a small machine to access the stump. We know how to do that. Other times we use a backhoe to access a stump. Our well-trained machine operators have experience in the safe use of these heavy machines.  You have property protection because we are fully licensed and insured.
Wainwright Stump Removal assumes all liability for tree stump removal in Bramhall. Again, the logistics can be critical when working in small areas. There is more under the ground than tree roots including underground utility lines. We know to have them marked so we do not cause damage during stump removal. We have stump grinders for all sized stumps and chippers to manage the grindings. This includes the FSI D67 720 stump grinder.  There is an unsightly hole left where the stump once stood. We fill that in with the chips from the wood grinding and leave the area clean. Any leftover chips are yours if you want to use them in your landscaping. Stump removal is quick and safe when you hire experienced stump removers with the right tools. Contact Wainwright Stump Removal for tree stump removal.