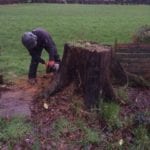 If you are looking for a professional company offering tree stump removal in Wilmslow, consider Wainwright Tree Stump Removal. They are an established company with over 25 years' experience in the industry, and have built up a trustworthy reputation across the North West of England in this time. Their range of tree services extended to tree climbing, planting and tree surgery and well as stump removal and stump grinding. They pride themselves on their personal, professional service delivered with efficiency and integrity. Wainwright is fully insured and holds all the relevant NPCT certificates.
In Wilmslow, stump removal specialists Wainwright are capable of removing any tree stump, no matter how large or deep-rooted. From back gardens to construction sites, no job is too complicated for Wainwright. Their expertise and quality machinery are more than capable of tackling even the hardest of jobs, and can access even those small and difficult nooks and crannies that often get missed. In the rare event that they miss a portion of the surface stump, they will return and complete the job at no additional cost. When removing a tree stump, they will grind the stump to prevent new shoots growing again. Wainwright Stump Removal has the FSI D67 720 stump grinder, and that with its remote control, gives fine, proportional control. This allows the operator to work from a safe position with a full view of the grinding zone. The 67hp diesel engine also delivers huge torque but low noise.
Wainwright's stump removal in Wilmslow can remove tree stumps up to 600mm below the ground. The grindings are used to fill any holes left in the ground, and additional grindings can be used as mulch. Wainwright can remove or dispose of these grindings for you for a small additional fee. They have grown to be an incredibly successful business with satisfied customers in private, domestic, public, landscape, insurance and property sectors. Wainwright provides tree stump removal services across Cheshire, Manchester, North Wales, Lancashire and all surrounding areas. For quick and efficient service with guaranteed results for stump removal, contact Wainwright Tree Stump Removal today.