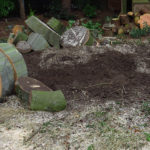 Regardless of the size of the task, there is a stump killer in Bowdon that is able to do the job.  Wainwright Stump Removal has built a reputation as trusted removers of stumps in the North West.  They have the expertise and the experience to ensure that the job is done properly.  Their work is quick and efficient and you can be assured that their service will be delivered with a smile.  You will not pay an arm and a leg when you use Wainwright Stump Removal, their pricing is competitive and affordable.
In Bowdon, stump killer Wainwright Stump Removal can tackle any size stump on any type of property.  When they remove a stump they will grind it to below ground level.  Some of the grindings are replaced in the hole, and the rest can be used for mulch.  They can also remove the grindings at a reasonable cost.   The work is completed in an efficient and clean manner.    It is simple to get a quote from Wainwright Stump Removal.  To ensure that the correct amount is quoted, and that the correct equipment is provided, the following information is required:  the diameter of the stump must be measured; and the access to the site must be measured.  This is to make sure the equipment that is sent to site is able to access the stump that needs to be removed.  For this reason, it will also help if you describe any obstacles as well as the position of the stump.  It is helpful if you are able to send a photograph of the stump. If you are able to identify the tree species, or at least advise if it is hard or soft wood, that will help.  They make use of an excellent machine for use on stumps on slopes, the FSI D67 720 stump grinder. With its remote control gives fine, proportional control allowing the operator to work from a safe position with a full view of the grinding zone.
If you need a stump killer in Bowdon, Wainwright Stump Removal will be happy to assist you.  They have built a reputation by being trustworthy and providing an excellent service.  All work is done safely and efficiently.  Contact Wainwright Stump Removal for information regarding a stump killer.