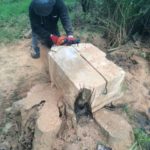 Look for a company that provides tree stump removal in Bramhall after the tree in your front garden was blown over in the last wind storm. Removing a fallen tree is easy enough to do with the right company, but will they remove the stump that is left behind as well? It is as important to remove the tree stump as it is to remove the fallen tree. If you need assistance with the removal of the tree stump, remember Wainwright Stump Removal.
When an old tree has blown over in Bramhall, tree stump removal should be left to the experts. We have been providing efficient and quality services to our clients throughout the North West for more than 25 years. Let us know how we can help you by giving us a ring. We also offer free, no obligation quotations. In order for us to correctly determine the most appropriate machine to use, and so provide an accurate quote, a few details are required from you. It will be helpful for us to know the type of tree that has fallen and left a stump, as well as the diameter of the stump. It will also be useful to indicate whether the location of the stump is in an accessible area. As we use different types of stump grinding machines for different sized and type of stumps, this information means that we can be as precise as possible when determining the final quotation. Our operators are all fully insured and have the relevant and required certification to ensure that the removal of the tree stump in your front garden is effectively and professionally removed.
Tree stump removal n Bramhall can be completed once the final quote is accepted. For more information on how we can assist you with tree stump removal, contact Wainwright Stump Removal. Our commitment to providing a professional service is evident in the list of successful removals we have completed in many areas. We are also well-equipped to tackle any sized stump, from a small, unassuming stump in your front garden to a large unsightly tree stump on a commercial property.