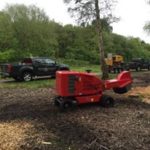 Stump grinding in Heaton Mersey provides numerous benefits. Other than the important aspect of safety, stump grinding means that you don't have to tackle the huge task of removing the tree stump yourself. While you may be confident in your strength and ability, removing a tree stump includes other factors such as removing all the roots of the fallen tree. What might have been an apparently simple task could end up being more involved than you bargained for.
Reclaim the area in your yard in Heaton Mersey. Stump grinding will ensure that the roots of the fallen tree are effectively and permanently removed. You will have more space in your yard for flowers or other plants that you wish to grow. At times, the tree starts growing again from the stump and this time around, there is not just one tree stem, but a number of them interlocked with one another. This could prove to be more difficult and costly to remove. It could be the best decision to enlist the services of a professional stump grinding company to remove the unsightly tree stump from your yard.
Stump grinding in Heaton Mersey is professionally completed by our team. All our operators have the required certificates and are also fully insured. For more information about our stump grinding services, contact Wainwright Stump Removal. We are proud of our excellent reputation for providing a first class service, and at affordable rates. Speak to us today for a free, no obligation quote. When you call us for a quote, be sure to provide details about the type of tree, the diameter of the stump, and whether the stump is in an easily accessible area of your yard. While it would also be helpful, but not obligatory, you could also send us a photograph of the tree stump. This is to ensure that we can select the most suitable machine for the stump grinding. Our team is conscientious and work to high standards, so you can be sure that you will receive a first class stump grinding service.