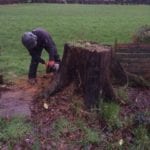 Tree removal in Chorlton can be challenging. A fallen tree is a sad sight, and can happen as a result of a particularly violent storm, or if the tree is diseased and has died. The tree still needs to be removed, however, and this includes the removal of its stump. The fallen tree itself can be chopped up and used for firewood, but the remaining stump will need to be seen to by professionals. We have the necessary machinery and expertise to ensure the removal of the tree stump in an efficient and thorough manner.
We are a well-established stump removal company. In Chorlton, tree removal includes the removal of its stump. A tree stump left to rot can cause a number of potentially dangerous and costly problems. A rotting tree stump attracts various insects that feed on the decaying matter. This could lead them to feed on the surrounding plants. A tree stump is also potentially dangerous in that as it can be hidden by grass and weeds, and could cause someone to trip over it. The covered stump could also damage your lawn mower when you cut the grass around the stump. These problems can be avoided if you have both the tree and the stump removed as soon as possible.  Give us a call for a free, no obligation quotation.
You will find that a quote for tree removal in Chorlton is competitive. Contact Wainwright Stump Removal today for more information about how we can assist you. We will ask you for information regarding the size of the tree stump, as well its location and type. This enables us to properly select the most suitable machine to complete the job. Our team are all fully insured and have the required NPTC Level 2 Certificate of Competence in Stump Grinding Operations and other relevant qualifications. We provide a service with a smile, and you are guaranteed of a professional and efficient service.