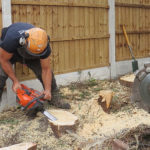 Professional tree stump removal in Bowdon can make the difference between a clear yard and a yard spotted with half-removed tree stumps that are an eyesore and which eventually regrow shoots. A professional tree surgeon will almost always recommend grinding the stump after having the tree cut down. Wainwright Stump Removal offer their expertise and experience in tree removals and stump grinding to ensure that the job gets done properly. Their range of tree services extend to tree climbing, planting and tree surgery as well.
In Bowdon, tree stump removal specialists from Wainwright Stump Removal hold all the relevant NPCT certificates and have a wealth of experience and knowledge when it comes to tree removal and grinding. From back gardens to construction sites, no job is too complicated for them. Their expertise and state-of-the-art machinery are capable of undertaking even the hardest of jobs. Simply let them know the diameter of the tree or stump, describe its position in relation to any fencing and, if possible, include the species of the tree or attach a photograph. Wainwright will be able to provide you with a quote and once you have accepted and made arrangements, they will arrive with the appropriate tools to get the job done quickly and efficiently.
Wainwright Stump Removal have developed a trustworthy reputation for tree stump removal in Bowdon and across the North West over their 25 years in the industry. Their grinders will remove the stump in question to a maximum of 60cm below ground level, which ensures that regrowth will not occur. The grinding chips are then used to refill the holes left in the ground, leaving you with a smooth, stump-free lawn. You can keep the excess grindings to use as garden mulch or have it removed by Wainwright for a minimal additional fee. For efficient, reliable and affordable stump removal and grinding, contact Wainwright Stump Removal today.