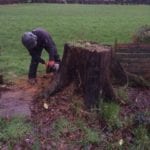 Find a professional company for tree removal in Cheadle if you have a dead tree in your back garden. Trees are a beautiful, natural feature in a garden. However, when they are plagued with disease, rot, insects or are simply dying, they can be a menace to deal with. If you have small children, you do not want them anywhere near this tree. A dry tree can have falling branches that can seriously harm a child or damage your car. Your best solution is to have the tree ground down to the stump or have it removed entirely. If you think you're good with a chainsaw, then think twice before attempting to remove it yourself. Tree removal requires specialised skills and training. Unless you are a tree removal specialist, do not attempt to remove the tree by yourself, particularly large trees like oak and cyprus. Contact professional tree removers who have the knowledge and experience to do it for you.
In Cheadle, tree removal and stump grinding are expertly done by Wainwright Stump Removal. If you are shopping around for prices, you can receive a quote from them. Simply take the measurement of the diameter of the tree. Mention where it is located on your property. Is it located near a fence on open ground? You should also send in a photo as this can be very helpful. You also need to measure access to the tree site. This will help the company determine which size machine and equipment to bring in. If possible but not necessary, try and identify the species of tree. This is because softwood and hardwood trees have different requirements. Wainright Stump Removal will send you a quote based on your tree's requirements. Once you have accepted the quote, they will arrange a time and date for the tree removal.
If you have a diseased tree on your property, and are looking for tree removal in Cheadle, ring Wainright Stump Removal. All their operators have a NPTC Level 2 certification of Competence in Stump Grinding Operations and other qualifications. Contact Wainwright Stump Removal for professional tree removal.