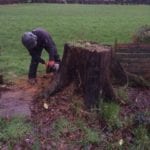 You will need to get a professional for stump removal in Bramhall if you have a tree felled on your property. There is no way around it. If left in the ground it can rot. It is best to hire a professional stump remover to get rid of the stump all together. One person alone would have a fairly difficult time removing on their own. Tree stumps are not very pretty. Removing them improves the value of your property. Stumps can also be hazardous. If they are very short, people can trip and fall over them, potentially breaking a bone or doing other injury. If you have a small space, removing the stump allows you to do more beneficial things in your yard. Stumps can start new tree growth if left in the ground.
In Bramhall, stump removal is done by Wainwright Stump Removal. The company has been providing this service to the region for over 25 years. When a tree has been removed, they will grind the stump down, using a special machine. This will prevent it from regenerating and causing more growth. Grindings from the stump can be left to be used as mulch. This will add nutrients back to the soil.
Stump Removal in Bramhall by Wainwright is a service you can depend on. It will be done properly, leaving your space free for other purposes.  They hold all the relevant NPTC certificates and are fully insured. They offer the highest quality service possible, because they are in the business of making satisfied customers. You can rest assured that the job will be done properly and thoroughly. They are the professionals and will take care of your problem. If you are looking for a professional company for stump removal, contact Wainwright Stump Removal.