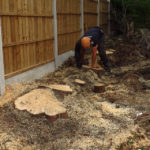 You may be wondering if a tree stump removal in Altrincham is necessary. It may not seem important, but there are aspects to bear in mind about having a tree stump removed. Firstly, a tree stump is unsightly. If you are planning on selling your property in the near future, a tree stump lessens the value of your property. Prospective buyers may well be dissuaded from purchasing your property as a result. Secondly, a tree stump can be hazardous as well. Whether you have children playing in the yard, or if you are doing a bit of work in the yard, it can be easy for anyone to trip over the stump and injure themselves.
Thirdly, a leftover stump can cause a new tree to grow. In Altrincham, tree stump removal will ensure that none of these can happen. We offer an efficient and effective tree stump removal to all our clients in the North West. We are happy to tackle any sized stump, as we have both the expertise and machinery. All our operators are experienced and have the necessary certifications to ensure a safe and thorough job. They are all fully insured as well. We have over 25 years' experience in tree stump removal, and we continue to provide our clients, big and small, with a professional and competitively priced service. If you are concerned about the tree stump that is an eyesore on your property, please feel free to get in touch with us.
Tree stump removal in Altrincham is best left to the experts. For more information about our tree stump removal service, or to request a free, no obligation quote, contact Wainwright Stump Removal. When you call us, be sure to have the following information on hand so we can provide an accurate quote. We will need to know the size and diameter of the stump, what type of tree it is and whether its location is accessible. If at all possible, a photograph of the stump and where it is on your property would be helpful. This information is needed to ensure our most suitable machine is selected for the job.