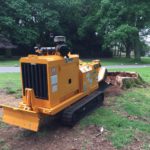 If you have had to cut down trees for any reason you will need a stump remover in Handforth. No-one likes to remove trees as they provide character to a property but sometimes they die or grow too big for the garden and have to be removed. The stump is usually the hardest part of the tree to remove. The procedure to professionally removing a stump is to cut the protruding section as low to the ground as possible before using the stump grinder. The size of the stump grinding machine depends on the access area around the stump. If it is in a small access space we will use one of our small grinding machines.
In the winter storms there will sometimes be trees that are blown over. In Handforth, stump remover services will grind the remains into the ground. The type of tree is important as a hardwood tree will have a different grinding time to a softwood tree. If there is enough room it is preferable to use a larger machine on a hardwood stump as it saves time. The stump grinder will remove the stump to a depth of around 600mm below ground level. We are very careful to contain as much of the chips as possible. They will be placed back in the hole and the excess can be used in the garden as mulch. The space where the tree stump was removed can be used to plant another tree or it can be turned into a regular garden area.
We are one of the most affordable stump removers in Handforth. Contact Wainwright Stump Removal today and arrange for us to visit your property to assess the project. We have over 25 years of experience in professional stump removal and are acknowledged as experts in our field. We hold all the relevant NPTC certificates and are fully insured. We are also qualified tree surgeons and can offer this service along with planting and tree climbing. We also offer a top class landscape garden service which enhances the other branches of our business.