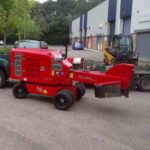 Tree removal in Frodsham should only be undertaken by professionals. The risk of personal injury and property damage is great when the poorly equipped and inexperienced attempt do-it-yourself tree removal. If the tree is large, you are bringing down a lot of weight. Even a small tree only 40 ft. high weighs in the ten thousand pound range or more depending on trunk circumference. You need skill to bring down that tree and in your own backyard is not the place to learn. You also need the right equipment and likely you don't have it in your garage unless you plan to teeter off an extension ladder with a 12 lb chainsaw and a section of rope; not recommended.
Wainwright Stump Removal has been in the business of felling trees and removing stumps for 25 years. We have the heavy duty equipment and the safety equipment to undertake, in Frodsham, tree removal. We understand that people want to save money whenever they can by doing their own maintenance tasks but tree removal should never be in that category. At Wainwright Stump Removal we work efficiently so our prices are reasonable. Our team is highly skilled, and we put safety first. Our technicians are fully insured plus we are insured against property damage. The logistics of removing a tree has to be planned out in advance so each section is taken down, not cut and left to fall.
We take pride in the services we offer including tree removal in Frodsham. When we move our equipment in, it's with consideration of the surrounding landscape and neighbouring homes. Once the tree is removed and the area cleared of debris, we grind the stump below ground level so it is not a safety hazard. The work area is left clean. Contact Wainwright Stump Removal for safe and efficient tree removal. Our estimates are free and we work with you to schedule a time for tree removal convenient for you with as little disruption as possible. If you decide you want another tree planted, we can plant it for you and guarantee it will thrive.
SaveSave