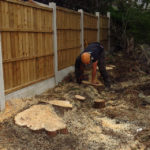 When it's time for stump grinding in Chester, there are several ways to tackle the issue. Some grinding can be a DIY project, but in most cases, it's best to contact a specialist. Trees can often grow big enough roots to affect the plumbing lines. This can lead to blockages if the roots break or collapse the pipes. Ultimately, the tree will have to be removed along with its roots. A professional stump grinder will contact the local authorities and find out if it is safe to dig out the roots, because there can be power and water lines running through the ground, which may be affected by the project.
For those in Chester, stump grinding can solve a lot of headaches. Stump grinding is done using a machine called the stump grinder. This machine is put on top of the tree stump, and it will grind it down its centre. The stump is ground into saw dust or a pulpy material. It's an essential part of all tree removal processes, especially when dealing with wide reaching roots, or when you want to use the space occupied by the stump.
Stump grinding in Chester can be handled professionally with spectacular results. Once the stumping is finished, you can hire your contractor to do the cleanup work as well. Grinding can be quite messy, and if you'd like to save money, cleanup can be a DIY project. If your stump is in a hard to reach place, make sure to contact a company that has a wide range of equipment, which can be maneuvered uphill or in tight areas. If you have a stump grinding project, contact Wainwright Stump Removal today. We have been in business for over 25 years, providing stump removal, site clearance, log and briquette delivery, and tree work and planting services. We can offer you a price and a general idea of how the project will go. After that, if you decide to use our services, we will be able to remove any stump in almost any location.