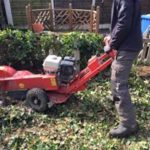 You may the need the services of an expert stump grinder in Bowdon to get rid of a tree root or a stump. A stump in the garden or in the pathway can cause a lot of injuries or damage to the property, as well as being an eyesore. It's always best to call in the professionals to deal with a tree stump as they can be hard to remove manually. While the idea of removing the stump yourself may have crossed your mind, it is best to rely on the services of an expert. An expert will have the necessary tools and experience to ensure the complete removal of the stump.
If you have an unsightly tree stump on your property in Bowdon, a stump grinder can effectively and expertly remove the stump. A tree may fall on your property as a result of disease, age, or from a strong wind. While the wood from the tree can be used for firewood, the stump will have to be removed. A tree stump can harbour insects, and these can infest the remaining trees on your property. There are many advantages to having a stump removed and it is recommended to use the services of an expert stump grinder. We have all the necessary tools and machines required to remove a stump in a matter of hours. We have the required NPCT certificates and all of our work is insured. We pride ourselves on providing a thorough service and you will find that our personnel are friendly and will not hesitate to go the extra mile if necessary. Furthermore, we strongly believe that our services are reasonably and competitively priced.
If you are looking for a professional stump grinder in Bowdon, give us a call today. We have been in the industry for over 25 years and have built a reputation for the quick and efficient services that we are always striving to provide our customers. For any further details, contact Wainwright Stump Removal. Other than stump removal, we also do site clearances, tree work and planting.