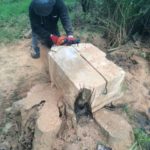 Use the services of a stump grinder in Chester if you have an unsightly tree stump in your front yard. A stump grinder is a specialist tree surgeon who is skilled in the art of removing a stump. Homeowners are advised not to attempt this feat by themselves as it can be dangerous. Where can you find a reliable stump grinder?
In Chester, a stump grinder with more than 25 years of experience in the industry can be contacted at Wainright Stump Removal. They specialise in tree stump removal across Manchester, Cheshire, Lancashire, North Wales and surrounding areas. They provide stump removal, site clearance, briquette and log delivery and planting and tree work. Wainright Stump Removal can handle any size stump and grind it down below surface level, whether they are in small gardens or large construction sites. The company holds necessary NPCT certificates and are completely insured. You may view these on their homepage. To obtain a quick quote for your tree stump, simply measure the diameter, mention its location on your property and other details such as whether it is in a corner near a fence or on open ground. If you provide a photo with your text, it will be helpful. Do not forget to measure the access to the location. This will help the company decide which size machine to use and how much time will be required to complete the job. Finally, it will also help if you know what type of tree it is, as different trees have different needs. Once you have accepted a quote, a date and time will be arranged for when the work will commence. The stump will be ground down to a maximum 600mm below surface level. You can use some of the grindings for mulch or to fill holes.
Wainright Stump Removal is an experienced stump grinder in Chester. All their operators have the NPTC Level 2 Certificate of Competence in Stump Grinding Operations. They also make use of their recently purchased FSI D67 720 stump grinder. This machine is ideal for working on slopes as it has a lifting rear axle that gives greater grinding depth or adjustment. For more information about a professional stump grinder, contact Wainwright Stump Removal.