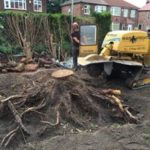 Get quick and efficient stump removal in Heaton Mersey to ensure that there are no obstacles that cause anyone harm in your yard or garden. Stumps are what are left when a tree has been felled and while they may not always cause any hazards, at times, they may become eyesores. If there are children in the whereabouts, you might want to remove them completely so as to have lawns that are safe for young children to play on. Additionally, if you don't want to have shoots growing from the stump, the best thing to do would be to completely obliterate it.
For clients based in Heaton Mersey, stump removal is a service we are happy to provide.  We have over 25 years of experience when it comes to tree care and maintenance. If you are looking to remove a stump, crown a tree, pollard it or organise your yard, you can give us a call and we will be there. We have various types of equipment to make our tasks efficient, so saving you time and money when it comes to clearing your yard and taking care of your trees. On top of that, if you need a site cleared of all trees and debris, you can count on us. Our many years of experience in the field have made us experts and we will be happy to assist you with any work that you need completed. We pride ourselves on providing quality services that are competitively priced. We always try to keep downtime to a minimum.
Don't worry if you need quick stump removal in Heaton Mersey. Our company can tackle stumps of any sizes. We have many different types of equipment to make our tasks easier when it comes to removing or grinding tree stumps. For more details about stump removal, contact Wainwright Stump Removal. To receive a quick quote, make sure to email us a picture of the stump you need removed. If it's possible, mention the type of tree as different types of trees will require different approaches.