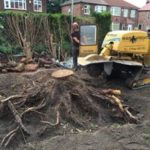 To begin with, under what circumstances might you need a tree stump remover in Chorlton? It might be a labour-intensive incident, such as clearing a big patch of land. You may be clearing your yard so you can put up a shed, or preparing a site for heavy duty construction. You might even be getting some space ready for a kids camping trip. Maybe you had to cut down a tree that had been littering your yard, clogging your pool filter, or damaging the roof on your house. Whatever the case may be, chopping tree trunks is only the first step. To effectively get rid of the tree stump, you need to dig all the way to the root and extract all the wood that's entrenched in the soil.
In Chorlton, tree stump remover is a pretty labour-intensive job-title to have. Dismantling the network of tree roots is a sweat-inducing task, and we should know. We've been doing it for over 25 years. That's one reason to let us do the dirty work for you, we've gotten quite good at it. And what's more, we enjoy our work. You will always be served by cheerful smiling workers. And you don't need to worry about safety concerns, because our team is NPCT certified and every one of us has full insurance.
There are even more reasons to call us for a tree stump remover in Chorlton. We are quick, thorough, efficient, and we go out of our way to give you that personal touch. We develop rapport, ensuring that all your needs are met. We're flexible too. You can call us anytime. We even have a handy pictorial that walks you through the whole tree stump removal process, complete with clear photos of every stage. If the technical side is more important to you, check our machinery page to review our equipment, then contact Wainwright Stump Removal. We're always glad to hear from you.