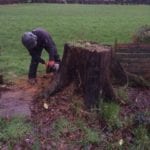 Many homeowners overlook the necessity of hiring a stump grinder in Cheadle after removing a tree. The fact is when your tree is cut down, a large stump will remain. Stump grinding is an effective way to get rid of it. Before you contemplate using the stump as a seat, consider some of the reasons why it is beneficial to have it removed. Tree stumps are unsightly, particularly if you're meticulous about how your garden is managed. Stumps can lead to lots of accidents. Kids may trip over them and incur serious injuries. If your neighbour gets hurt, you can expect a civil suit. In addition, if your lawn mower accidentally crashes into the stump, you can expect serious damages to the machine. Most stumps that are left behind will lead to new tree growth. This will render the whole reason for tree removal futile. Lastly, stumps start to decay with time. This is a breeding ground for wood-boring insects such as termites, beetles and ants. It will only be a matter of time before they invade your home.
If you reside in Cheadle, a stump grinder called Wainwright Stump Removal is available at your convenience. When you contact us, include a photo and mention the exact location of the stump in your yard. Try to measure the access to the site. This will help our team in deciding which machinery to bring to the location. If possible, inform us about the type of tree it is, whether it is softwood or hardwood. Both types of trees have different requirements. We will send you a quote based on your requirements. If you are happy with our estimate, we will organise a date and time according to your convenience, to come and grind your tree stump.
If you're unsure about hiring a stump grinder in Cheadle, then consider some of the benefits of doing so. Contact Wainwright Stump Removal today and discuss your requirements for a stump grinder. Our services and prices will simply not be beat! We have all the required certification and our team is experienced, highly professional and courteous.