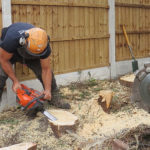 Professional stump removal in Cheadle could return your garden area into a world class state. Stumps that are left to linger after a tree has been chopped own can be an eyesore. Wainright Stump Removal has built up a reputation for excellence in the stump removal industry. Trying to take on stump removal by oneself without the required skills could end up causing long lasting damage. Their attention to detail is what has elevated Wainright Stump Removal to the top of their trade. It will be hard to tell that a tree once stood after they have carefully removed the stump. Wainright Stump Removal is right at the very top of their game and has the skills to enhance the way your garden looks. If you are struggling with an untidy and unkempt outdoor area then there is only one company to contact.
Trees that have come down will eventually need their stumps removed. If this has happened to you in Cheadle, stump removal services from Wainright Stump Removal are on hand to help. They will travel out to your property and assess what action needs to be taken. Equipped with the mot advanced and robust machinery and tools, there is simply no job too big for them. Despite their services being in high demand, they always strive to price competitively. Having them carry out a clean up job around your property is affordable and will be money well spent. There is a lot to admire about the way Wainright Stump Removal approaches any job. With a personal touch and honest service, they are becoming the outright leaders in a very competitive field.
If you require skilled stump removal in Cheadle then Wainright Stump Removal is definitely your best option. Contact Wainwright Stump Removal for professional stump removal. Don't let rogue tree stumps bring down the image of your property. Team up with Wainright Stump Removal today and reap all the benefits of quality stump removal. They have the touch of a surgeon and a work ethic that guarantees outstanding results.