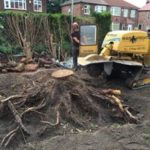 Stump grinding in Didsbury will be necessary if you have recently had a dead tree felled in your yard. Many homeowners simply ignore the stump and choose to live with it, but there are reasons why you should have the stump ground and removed. Firstly, stumps can make your garden look ugly. Secondly, stumps are hazardous. Children playing in the yard could trip over the stump and injure themselves. Sometimes stumps lead to new growth. This is both unsightly and costly to remove. You may have to resort to using chemicals to remove the small tree growth and the stump. Lastly, stumps attract insects. As the tree decays, it attracts rot, fungus, mold and wood boring insects such as ants, termites and beetles. They could eventually spread to your home.
For your garden in Didsbury, stump grinding can be expertly done by Wainwright Stump Removal. We are one of the most recognised and trusted stump removal experts in the North West. We have more than 25 years of experience as well as the necessary certificates to ensure a correctly completed job. We can assist many different types of clients such as landscape gardeners, home owners, public sector properties, insurance providers and property developers. To get the process started and to receive a quote, simply measure the diameter of the tree stump. Mention where it is located on your property and its proximity to the fence and other areas of your grounds. Be sure to measure the access site as well as this will help us determine which machine will fit through your entrance. Lastly, if you are familiar with the species of the tree, then mention this as well. This is because softwoods and hardwoods require different types of equipment. Please try to include a photo in your request.
If you have an unsightly tree stump in your yard, then you will benefit from stump grinding in Didsbury. Contact Wainwright Stump Removal for professional stump grinding and take care of your tree stump right away. You'll be glad you did!