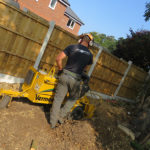 Get a reliable stump grinder in Chorlton to avoid old stumps from encouraging the growth of mouth and fungi. Apart from ruining the aesthetics of a garden or a view, old stumps can attract mould and fungi which can slowly contaminate the rest of your garden, thus destroying and killing the plants and flowers you have spent months catering for. Of course, an old stump may also grow into a tree or be an obstacle to a driveway or patio, rendering the space unusable. To avoid all these problems, you will need to get the stump obliterated completely.
In Chorlton, stump grinder services are available from Wainwright Stump Removal. They can provide you with an estimate and if you agree with the price, they will arrange with you on an agreed time that suits the both of you. One of the frequently asked questions that clients often ask the experts is regarding the depth to which they can remove the stump. The experts at Wainwright Stump Removal can generally go as deep as 600mm underground, but if you wish to get rid of the stump completely, do inform them earlier so that they can come with the right equipment. Please note that when you call the company, give them as much details as possible regarding the tree stump. As such, you can measure the diameter of the stump, describe the position of the stump, take pictures of it and send it to the number provided below and inform the staff about the tree species as hardwood and softwood will require different machines and approaches. They make use of the FSI D67 720 stump grinder, that with its remote control gives fine, proportional control allowing the operator to work from a safe position with a full view of the grinding zone. The 67hp diesel engine delivers huge torque but low noise. It is an excellent machine for use on stumps on slopes.
If there is a tree stump in your yard and getting rid of it will open up the space, call the stump grinder in Chorlton. Providing their excellent services to their clients for over 25 years with staff members in possession of NPTC certificates and are fully insured. For more details about a stump grinder, contact Wainwright Stump Removal.