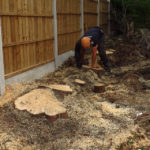 Stump grinding in Wilmslow needs to be given the utmost precaution. Using the services of a professional company is a responsible thing to do. At Wainright Stump Removal we offer a faultless stump grinding service. Stumps are unsightly and can pose a safety hazard for those using the garden. Speak to us if you have an unsightly stump that you would like removed. Whether you want it done to improve aesthetics or to improve safety, we are happy to provide a quote.
Keeping your outdoor area in a good condition is a regular part of property maintenance. In Wilmslow, stump grinding services can begin with a call to our friendly staff. In order to provide the best possible service, we will require a few details regarding the stump you want removed. Let us know the dimensions of the stump, where it is located in your garden, and if possible, provide a photograph of the stump. Identification of the species of tree will also be helpful as different types of wood require different machines. 
Stump grinding in Wilmslow will ensure the unsightly stump is removed from your property. Contact Wainright Stump Removal if you need a quote for quality stump grinding. We are a registered company and have 25 years of experience in dealing with the removal of tree stumps. We also have all the required and necessary NPTC certificates. Removing a stump from your property without assistance can be a back-breaking task. Regardless of where your stump is, we will have a machine that can deal with it, saving your back. Once the stump has been ground down, the remaining wood chips can be left for your garden as mulch or removed.