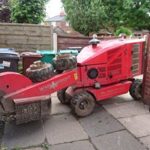 A stump grinder in Prestbury can take effort out of removing a large, unsightly tree stump. Usually after a tree has been cut down, the stump remains. This can cause some problems. The tree stump, if left to decay, will attract insects that feed off the decaying plant matter. They could turn to the surrounding plants and cause them damage. A tree stump is also an eyesore, and can be the cause potential accidents in your garden. In order to avoid any problems caused by a tree stump, give us a call.
We have provided an expert stump grinding service for over 25 years. In Prestbury, stump grinder services includes the use of specialised tools and machines. Our competent team has all the necessary and relevant certification to ensure safety and professionalism. All our operators have the NPTC Level 2 Certificate of Competence in  Stump Grinding Operations and other relevant qualifications. When you speak to us for stump grinding, it is helpful if you can describe the type of tree, the diameter of the stump and its location on your property. This is to ensure that we select the best suited machinery to complete the grinding of the stump effectively and efficiently. It would also be helpful if you could send a photograph of the stump. We will schedule a visit at your convenience to grind the stump and have the wood shavings removed.
A stump grinder in Prestbury works according to the required safety standards. Our team places guards to ensure that the grindings don't spread any further than they need to. The stump will be removed to a maximum of 600mm below ground level. Some of the grindings will be used to backfill any holes.  Any remaining grindings are left and can then be used as a mulch for your garden. For more information on how we can assist you, contact Wainwright Stump Removal. Speak to us for a free no obligation quote. Our prices are competitive and we provide our services to clients throughout the North West.