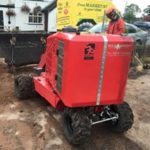 Stump grinding in Heaton Mersey can be logistically difficult. Whoever planted those three trees so close to the house 20 years ago probably thought it was a good idea. Every time a strong storm comes through you worry about a branch coming down on your house. Your neighbours are worried about one of your trees falling on their house too because the properties are so close. It's time to cut them down before real damage occurs or someone gets hurt. When properties are close together, the tree surgeon will use a bucket truck and an extension to get to your trees. He doesn't even have to be on your property to reach. He and his crew will take them down one limb at a time and clear out the debris. The danger is passed, but you are left with unsightly tree stumps.
The sun can reach the ground around your house now and you think you would like to plant flowers and ornamental trees. In Heaton Mersey, stump grinding has to be done before you can plant anything else. Like everybody else, you thought of many ways to make those three stumps decorative and interesting. Fungus in the shape of mushrooms and weedy sprouts from the stump is all you're getting. At Wainwright Stump Removal we have the equipment to fit into tight places to grind stumps. If it butts up to a fence, we carefully remove that section of fence, grind the stump and replace the section of fence good as new.
Wainwright Stump Removal does a professional job of stump grinding in Heaton Mersey. We grind the stump at least six inches below ground level so we will kill the roots. That leaves a big hole in the ground. We fill it in with a few inches of topsoil and then finish filling it with the wood chips. The wood chip mound will gradually level out and maybe even sink a little. You can add more topsoil and plant something new in the area once filled with trees. Stop staring at those stumps and contact Wainwright Stump Removal for stump grinding to remove those unsightly stumps so you can get started landscaping. Our stump grinding equipment makes short work of any stump and we will be done quickly.