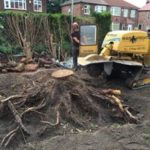 Find the right stump grinder in Cheadle to remove the tree stump in your garden safely and completely.  A stump left in your garden isn't just unsightly, but it could also be a hazard. This is certainly not a DIY job, as stumps can be deeply embedded, difficult to remove and though the process is simple, you need the expertise and the right equipment. Services like Wainwright Stump Removal offer quick, efficient and cost-effective solutions to stump removal issues in your garden. People often assume that when they hire a tree service or landscaper to work on their property, it would include stump removal along with tree cutting. However, few contracts specify that stump removal is included and you could end up with a large tree stump right there where the tree previously stood. Stumps not only obstruct the way, but could be an obstacle to building a path or walkway. Rotting wood also attracts fungi, mould, and insects that could affect the other plants in your garden.
Removing the stump has another advantage and that is to prevent the tree from growing back again. In Cheadle stump grinders ensure that you get a fully-usable space in your yard or garden. Stump grinders work by pulverising the remaining wood into fine dust or mulch that can be used as fertiliser in your garden. We have different types, sizes and brands of stump grinders available, headed by a qualified tree surgeon. You have to provide us with information regarding the size and diameter of the stump, its location on your property, access to the site and the species of tree if possible. The last piece of information helps us to determine what type of grinder will the most suitable for the particular stump.
Stump grinders in Cheadle should be operated only by those with NPTC Level 2 Certificate of Competence in Stump Grinding Operations. Contact Wainwright Stump Removal if you are looking for stump grinders. We employ experienced, qualified, trained, licensed and insured technicians.