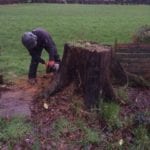 Carrying out tree stump removal in Chorlton might seem like child's play to a lot of people but there are dangers associated with this task. To successfully fell a tree or remove a stump requires the skill and knowledge to carry out such a dangerous task. It is always easier to have a professional who has specifically trained for this type of job.
Wainwright Stump Removal have the experts and the knowledge required for a successful stump removal project. In Chorlton, tree stump removal is quick and efficient when the right equipment is used. We have a number of machines that are suited for any sized stump. From the large Vermeer ST60TX that is best used for larger stumps, to the smallest machine, the FSI ST 20B, for use where access is an issue and for stumps in tight corners. It is easy to request a quote for tree stump removal. First, measure both the access to and the size of the stump. You will also need to describe the position of the stump and if there are any obstacles. It would also be handy, although not obligatory, to identify the tree stump and send us a photo. All these steps will aid us in selecting the most suitable machine for the removal of the tree stump in your garden.
Let the experts handle tree stump removal in Chorlton. We have all the relevant NPTC certificates and we are fully insured. For professional tree stump removal, contact Wainwright Stump Removal. When we are on site to remove the tree stump, we will place guards to ensure that the grindings don't spread more than what is expected. Our grinders will remove the stump to a maximum of 600mm below ground level. This is to ensure that all parts of the tree are removed. Some of the grindings that are left over will be used to back fill the hole. Don't let an unsightly tree stump spoil your garden – use the services of an expert tree stump remover.