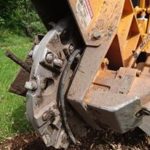 Stump grinding in Handforth is a bespoke service that Wainwright Stump Removal offers. We are a reputable company with a reputation that remains unmatched by any others. More than 25 years of experience in the industry has helped us become the leading experts in North West. We aim to make our service personal and flexible for each customer. Our services and the way we deliver them is important. We pride ourselves in providing a quality service. Every customer, old and new, is treated with respect and care. Our staff is always friendly, polite and professional.
Whether the tree has fallen over, or cut down in your garden in Handforth, stump grinding needs to be performed with the correct machinery. We have a range of machines in different sizes to suit any stump grinding job. Our smallest machine, "FSI ST 20B", is the one we use when accessing the site may be an issue. "VERMEER 252" is a bigger machine that is still able to easily access most sites, while tackling a variety of stumps. Our large machine, "VERMEER ST60TX", is designed to take on considerably larger stumps. All our machines are built with cutting-edge technology. We use these machines with expertise and can navigate any site and effectively grind any stump.
Stump grinding in Handforth is necessary as stumps can become a hazard. Some of the natural problems that may arise from a stump include insect infestations, spreading of disease and new sprouts shooting from the stump. If you have children, it is possible for accidents to happen as they may not see the stump while they run around your garden. Contact Wainwright Stump Removal to find out more about our excellent services. There are a few things we need to know before we can tackle the task. If you'd like a quick and free-of-charge quote, please visit our website and follow the simple instructions. Some of the details that need to be determined in order to perform the task as effectively and efficiently as possible include the diameter of the stump, what type of tree it is as hardwood and softwood must be treated differently, where the stump is and what the access points to site are.