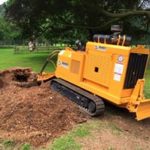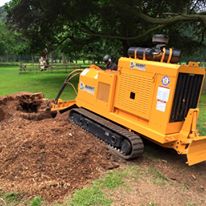 Look for the services of a stump remover in Alderley Edge if an old tree has fallen and you need both the tree and stump removed. We have built a reputation as trusted removers of stumps in the North West. With our expertise and experience, we will ensure that the job is done properly. There are a number of benefits in having a stump professionally removed. A stump in the middle of a garden is unsightly, and can take up needed space. They also have the potential to cause new tree growth. A tree stump will also decay, attracting a number of insects such as termites, beetles, ants, and other unwanted pests.
Use the services of a professional company to have the stump removed. In Alderley Edge, a stump remover will ensure that any sized stump is removed. We will remove the stump from below ground level. We have the necessary equipment suitable for any sized stump. What is good to know is that stump grinding removes the entire stump, including all the grindings. We will leave your property in a neat and tidy state.
A stump remover in Alderley Edge will ensure the work is done correctly and efficiently. If you need the services of a stump remover, contact Wainwright Stump Removal. We will provide a competitive quote for the work. To assist in quoting the correct mount for your stump removal, we will need additional information from you. We will need the diameter of the stump to be measured, as well as the access to the site. This is necessary so that the correct equipment can be brought to the site. It would also be helpful if a photograph of the stump is sent to us, as different machines are used to grind different species of trees. A tree stump needn't be an eyesore if you use the services of a professional stump remover.