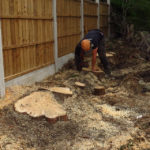 When you need stump grinding in Chorlton, look no further than Wainwright Stump Removal. With over 25 years' experience, this company knows exactly what they are doing, and they will do it right. There are a number of reasons why you may need a stump removed from your garden or building site. You may need to clear the space for new development. A tree could be blocking your view, or preventing sunshine from entering your garden. A storm may have resulted in a tree blowing over. Whatever the reason, there are times when you need to remove a stump.
In Chorlton, stump grinding by Wainwright Stump Removal is done efficiently and neatly. They have a range of sizes of machines to manage different access requirements, sizes and types of wood. Often it is awkward to reach a stump that needs to be ground. The access to the stump may be limited. By indicating this to Wainwright beforehand they will ensure that the machine they send can access your tree stump. They are able to remove the stump to 600mm below ground level. Wainwright sets up guards to prevent the grindings spreading across the whole site and making an unsightly mess. The grindings can be used to backfill the resulting hole in the ground, and they can also be used as mulch. If you need the grindings to be removed from the site, this can be done by prior arrangement.
There are a number of reasons to choose Wainwright Stump Removal for stump grinding in Chorlton. They have established themselves as a leading operator in the North West by providing excellent service and quality work. This company holds the necessary NPTC certificates so you can trust they are competent in the use of chainsaws, pesticides, chippers and other related machinery. They are also fully insured so you can have complete peace of mind. There is no need for you to battle with this task yourself. Use the company that has the correct equipment and the correct skills to get the job done quickly and efficiently. For more information about stump grinding, contact Wainwright Stump Removal.