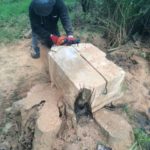 If you are about to have a patio or a new garage installed, or if you need more space tree removal in Bramhall is quite easy with Wainwright Stump Removal. The company has been providing quality services to happy clients for 25 years and they remain one of the leading tree stump removal experts in the area. It can be very hard for a single man with an axe or some basic tools to remove a deep-rooted tree. However, when you call the experts at Wainwright Stump Removal, you will find that they can complete the job professionally and quickly.
In Bramhall, tree removal that is quick and efficient, it is best that you contact the experts. They have the right equipment and can definitely make sure that you have the space you want cleared as soon as possible. One of the questions that the company receives is whether they can remove old stumps that are quite large. The stump removal company can definitely do that, and that's the reason they have all the equipment which can be used in the obliteration of the tree stumps, no matter how big or deep they are. However, when you give the company a call, it is a good idea for you to mention the size and whether the area is accessible. This information will help them in determining the right step to approach the task efficiently. Sometimes, when the tree is located in a tight area, the removers will need to pave an access towards that tree so that they can grind it.
You can give the company a call regarding tree removal in Bramhall. They will be pleased to assist you in clearing the space. Should you require other services such as site clearance or even tree work and planting, they will be happy to do some landscaping job for you as well. Wainwright Stump Removal have all the relevant NPCT certificates to ensure expert tree removal, and are fully insured. If you require assistance with tree removal, contact Wainwright Stump Removal.