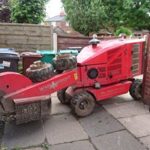 Having a tree removed is only part of the solution as you will need a stump grinder in Altrincham to complete the process. This may be due to clearing a property for development or to remove a tree that has grown too close to a building. We can carefully remove the tree by climbing up and dismantling it piece by piece. Although this may seem to be a slow way of removing a tree it is always the safest way for the buildings on the property. A large branch falling on a roof could cost a large amount of money in repairs and can damage not only the roof but also the supporting walls.
When a tree becomes a danger to your home and needs to be removed in Altrincham, stump grinders will be needed to remove the last traces of it. Our machines move in when the tree is just a stump and cannot be removed any further. The machines chop the stump into small chips that will be used to fill the hole and the excess can be used as mulch. The machine will grind the stump to approximately 600mm below ground level to give you new area of garden to work with. Our machines come in different sizes to suit even the most difficult to reach places.
Our stump grinder in Altrincham can remove even the hardest wooden stumps. Contact Wainwright Stump Removal today and arrange for one of our machines to remove all signs of the tree. We have over 25 years of experience in the industry and besides stump grinding we offer a number of other services. We do site clearance and will deliver logs and briquettes. As experienced tree surgeons we can offer tree climbing, surgery and planting as part of our comprehensive service. We carry out work for the domestic and commercial markets and are often called in for insurance providers. We offer landscaping garden services to home owners and commercial developers.