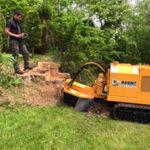 Are you in need of a stump grinder in Didsbury? At Wainright Stump Removal we have over 25 years of experience. If there is a stump that needs grinding, then we can make it happen. We have developed our techniques over the years can help you out. We have invested in the best equipment in order to produce excellent results. There is no need to have an unsightly stump in your garden. Not only are they are unattractive, they can also pose a danger to children playing in the garden. We take pride in our conscientious approach and when we are finished, your garden will be neat and tidy. We pride ourselves on our attention to detail and will give you an outside area that you can be proud of. It's that can-do attitude that has given us the edge.
Have you had a tree come down recently? In Didsbury, a stump grinder from Wainright Stump Removal will take care of any stumps left over from a fallen tree. We have all the machines to assist you with whatever size of tree it is. Trees can come down without any prior warning, being left with an untidy and wild stump is less than ideal.
If you need the services of a professional and competitively priced stump grinder, contact Wainwright Stump Removal. Let us know what the dimensions of the stump is, where it is situated in your garden, and if possible, the species of tree. A photo of the stump will also be useful but is not obligatory. This is useful information for us so that the best machine for the job can be brought to the site. Speak to us about a quote for the stump removal.