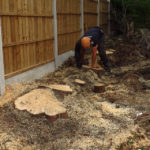 If you need the services of a stump remover in Bowdon, consider the level of experience the provider has.
They will need to have a range of stump grinding equipment available to be able to reach the job and complete it efficiently. You should measure the diameter of the stump and note the location on your property. This will give an idea of the requirements for proper completion. If you know what type of tree species it is, make a note of this when researching service providers. Make sure the company is fully insured and meets the competence level required.
For your garden in Bowdon, stump remover services are available from Wainwright Stump Removal. We are one of the most recognised and experienced stump removal companies in the North West. We have over 25 years of experience in the industry, so we can get the job done correctly and quickly. Our company is owned and operated by an experienced tree surgeon, so you can rest assured that your job will be handled by an expert. We have a reputation for efficient, quality work, delivered professionally with integrity. We have all relevant NPTC certificates, and we are fully insured.  We offer our services to private and domestic market, public sector, tree surgeons, gardeners and landscapers, property developers and others. We are happy to provide you with a quote for your project.
The assistance of a stump remover in Bowdon is the safest and easiest way to get the property ready for your purposes. You can contact Wainwright Stump Removal if you need more information about stump removal. We will be happy to help you. We offer competitive rates and dependable service. We can have your property ready for the next step in your project, whether it is a landscaping project or a major building venture.