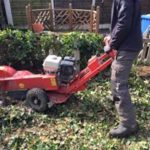 A stump grinder in Alderley Edge is always needed when you've cut down some trees and the stump is left behind. Felling a tree will leave a stump and this is best removed by using stump removal machinery to ensure the complete removal of the stump. The reason why it is necessary to completely remove a tree stump is that it can still produce new tree growth, and you'll soon see new shoots emerging that can grow into strong new branches. Not only that, insects love a tree stump, and when these stumps are left to decay, it's that very decaying matter which attracts wood boring beetles and termites. Once a tree is infected, it also becomes a health concern for other trees. With our more than 25 years of experience in this industry, you can rely on an excellent tree stump removal job. We're recognised in the North West of England for our excellent services, our affordable prices and our professionalism.
When you need a tree stump removed, rely on the professionals for an excellent job.  In Alderley Edge, our stump grinders have built up a reputation for efficiency and integrity. We're not an inexperienced, fly-by-night company that does poor quality work. We hold all the relevant NPTC certificates and are also fully insured. We have the machines and the expertise to ensure an excellent job every time, while maintaining the look of your garden.
Use the services of a leading stump grinder in Alderley Edge to ensure a professionally done job. Contact Wainwright Stump Removal if you are looking for an affordable and expert stump grinder. It's a good idea to also give us an idea of the stump's location on your property so that we can determine the size of machine to do the job properly. We can then arrange a date, and our operators, with their NPTC Level 2 Certificate of Competence in Stump Grinding will remove the stump to a maximum of  600mm below ground level.