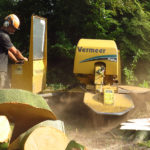 Stump grinding in Timperley should be considered if you want to effectively remove a tree from your property. Professionally done stump grinding is almost certainly the best option. Stump grinding is completed following the felling of a tree. When a tree is cut down, the stump will be left. Stumps can make your garden or outside area look untidy. If you want to improve the appearance of your outside area after cutting down a tree, choosing a company to come and grind the remains of the stump is a great choice. It is important to use a specialist company that understands how to grind the stump in a safe and efficient manner. Local companies such as Wainwright Stump Removal possess a team of skilled staff and all the necessary equipment to ensure that the stump grinding process is completed to a very high standard.
In Timperley, stump grinding can provide homeowners with a wide range of benefits. As mentioned previously, grinding a stump certainly helps to improve the appearance of an outdoor space. A tidy and well maintained outdoor area could help to increase the value of your property. It will certainly make your home more desirable to prospective buyers should you choose to put your property on the market. Stump grinding is also one of the quickest and most efficient ways of removing a stump. The process of grinding the stump can be completed in a relatively short space of time which reduces inconvenience levels. Choosing a specialist company to complete the process for you also ensures that safety levels are improved. Grinding a stump can be dangerous if attempted by anyone with little or no experience.
Another benefit related to stump grinding in Timperley concerns minimising the damage to other things in the immediate vicinity of the stump. Stump grinding is very precise so there is little or no risk of damaging surrounding, trees, plants or shrubs. Stump grinding also helps to prevent a diseased stump affecting other trees in the area. If you are looking for a company that can assist with stump grinding, contact Wainwright Stump Removal.