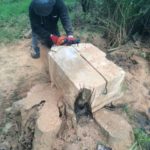 Wainwright Stump Removal brings 25 years of experience to stump grinding in Heaton Mersey. One question we frequently get regarding stump grinding is "why remove the stump?" The thinking of many is to leave it to rot on its own. There are at least two reasons why that is a bad idea. One reason to grind down the stump of a fallen tree is to kill the roots. Until the roots die, sprouts will continue to shoot up. The sprouts can be prolific if the root system is extensive. The tree stump may be on your neighbour's property but the root system could extend into your yard and so will the sprouts. Wainwright Stump Removal grinds the stump 600 mm below ground level and backfills the hole insuring the root system will die. We have recently bought a new machine called an FSI D67 720 stump grinder.
In Heaton Mersey, stump grinding is important because of honey fungus. Your tree stump and the roots may be dead. The stump is now food for diseases that can travel to healthy trees and plants on your property, killing them. Honey fungus includes several species of fungi and is destructive to many UK gardens. It feeds on woody plants like trees and perennial plants. One sign the fungus is present is honey coloured toadstools around the stump, especially in autumn. There is no controlling honey fungus. You have to destroy the food base to protect against the infection of healthy plants. Our arborist can detect the presence of honey fungus in your plants or tree stumps.
Stump grinding in Heaton Mersey is necessary to maintain the health of surrounding plants. Stumps left standing are unsightly and pose a safety hazard but the unseen damage they can cause may be devastating to your garden. To be effective, stump grinding by a skilled tree surgeon using the right equipment is necessary. We are certified and insured for every aspect of the stump grinding process. We take every precaution to protect surrounding plants and trees during stump grinding. We will use some of the wood chips to refill the hole left by the stump and the remaining chips are yours for use in your own landscaping. If you are looking for a company for stump grinding, contact Wainwright Stump Removal.