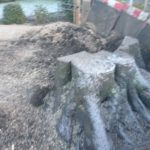 Choosing the right service for tree stump removal in Mobberley is important. At Wainwright Stump Removal, we offer professional, cost-effective and efficient services across Cheshire, Manchester, North Wales, Lancashire and surrounding areas. With more than a quarter century's experience in the business, we provide safe, professional services. No matter what the size and nature of the stump, our trained, licensed and insured team can handle it, ensuring your garden or yard is secure and hazard-free. We are proud of our well-earned reputation for excellent workmanship, friendly and customer service and affordable rates. Being a local business, we are in tune with the local communities, and we also understand the environment here, including topography and vegetation.
Stump removal becomes necessary after you have cut down a tree. In Mobberley, tree stump removal is important because if it's left in the ground, it can cause a variety of problems. The tree may have been cut down because it was diseased or infested with pests. The stump continues to carry these problems which can infect neighbouring trees and plants. Stumps become a hiding place for rodents and insects. They pose a hazard to senior citizens, children and visitors who could trip over it, fall and hurt themselves. Stumps also prevent you from being able to use that space to its fullest potential. There are different methods of stump removal, including use of chemicals, manual digging up, grinding or burning. However, this is certainly not a DIY job. It can be dangerous to use chemicals and tools that you're unfamiliar with. That's why it's best to leave such work to professionals who have the right training and equipment.
Our services besides tree stump removal in Mobberley include allied tasks like tree-climbing, pruning, tree surgery, transplanting and planting besides stump grinding. Contact Wainwright Stump Removal when you need tree stump removal. Our team is headed by an experienced tree surgeon.  They all hold the required NPTC certificates and are fully insured and certified to carry out this work. Our services have been used by domestic and commercial clients, public, private-sector organisations, and professional landscapers.
SaveSave