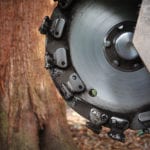 When we undertake a tree removal in Congleton, we often feel we arrived in the nick of time. The average citizen may not spot trouble signs that a tree is dying.  Because of our training and 25 years' experience, when we check the health of a tree we look for known signs such as fungus and ground heaving around roots and dead branches. Other signs of a dead or dying tree is discoloured leaves and missing bark.  Pull away a bit of bark and scratch the tree wood; usually you will see green underneath if the tree is healthy. Try to snap a small twig. If it snaps easily and has no green inside, it's dead. There are ultrasound tools available to check the tree for dead or decayed sections inside but they don't tell the whole story.
When these conditions exist, the tree needs to come down before it falls in a high wind causing damage or personal injury. In Congleton, tree removal is necessary when there are large branches with no bark. The less obvious signs are why you should closely examine your trees yourself or call us to examine them. When we fell trees showing symptoms of dead or dying, we are often surprised at the extent of damage seen only when we cut up the tree or examine the roots. We have to tell the property owners how fortunate the tree did not fall on its own.
Contact Wainwright Stump Removal for tree removal in Congleton at the first signs of a disease or dying tree. Our team will diagnose the health of the tree and if suspicions are verified we will take the tree down safely. Our own safety and that of the buildings and people in the line of tree fall are our top considerations. We are well equipped with safety equipment and insured. We do the whole job which includes grinding the stump below ground level to kill the tree root and filling in the resulting hole with the wood chips. The site is left clean and ready for whatever you choose to use it. If you want another tree planted, we can do that for you too.