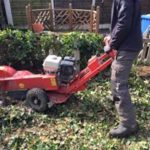 Stump grinding in Nantwich should be carried out only by specialists like Wainwright Stump Removal. After cutting down a tree, leaving the stump protruding out of the ground is not just an eyesore but it's also a hazard. Anyone could trip and fall over it, or it could damage your lawn-mower or car. Stumps are also a breeding ground for fungi, insects, pests and other vermin. That's why they have to be removed quickly, completely and efficiently. This is certainly not a job for the DIY enthusiast, unless you have the expertise, experience and the right equipment and tools. At  Wainwright Stump Removal we provide cost-effective and professional services that keeps your property safe and neat. Many people assume that when they hire a landscaper or garden service, it would include stump grinding as well. However, unless your contract specifies it, this service may not be included.
A massive piece of tree trunk jutting out in the middle of your lawn could obstruct the building of a path or walkway. In Nantwich, stump grinding enables you to make full use of the available space and create an unobstructed landscape-design. At  Wainwright Stump Removal, our team of experts work with you to ensure that the project is completed in time, according to your convenience. To get a quote from us, we would require some information from you regarding the size of the stump and its position and location in regard to a fence or wall. We also need to know the type of wood – whether the tree was a hard or soft wood tree. Our stump grinders are provided according to these parameters. They grind the wood into a fine powder which can be mixed with your regular garden fertilizer.
All our operators are trained, qualified and fully insured, so stump grinding in Nantwich carried out by us is a hassle-free and smooth operation. Our operators also have the NTPC Level 2 Certificate of Competence in stump grinding and other relevant tasks. To find out more about our stump grinding service, contact Wainwright Stump Removal. We ensure that the debris and dust are contained within the work site by providing the appropriate guards.