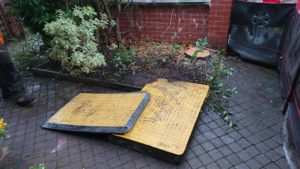 Stump removal can be a headache for keen gardeners but for Wainwright Stump Removal we cover the whole of the North West of England not just in ChorltonThis is why you want to have professionals on the job. With more than 25 years of experience, Wainwright Stump Removal have been providing unparalleled services in the Lancashire, North Wales, Manchester and Cheshire areas. Besides stump removal our company's services include site clearance, firewood delivery and all aspects of tree surgery. We have developed a reputation for quality, professionalism, integrity and efficiency. Fully certified with all relevant NPTC certificates and fully insured, Wainwright Stump Removal have the documentation to prove their dedication to quality service and professionalism.
In Chorlton, stump removal from Wainwright Stump Removal starts with a quick quote. To receive this quote, all you have to do is measure the diameter of the stump, and mention its position on your property when putting in the call. A photograph would be even better! Next, you want to measure the access to the site at its narrowest point, so Wainwright Stump Removal can estimate which machine can be used most efficiently. The final detail that would help to make the quotation as accurate as possible is the tree species as hardwood and softwood stumps can differ in grinding duration.
Once you receive and accept your quote for stump removal in Didsbury, Wainwright Stump Removal will set up a date and time. We will send in the machinery and experienced operators to handle the job. The process itself starts with the positioning of the machine and placing of a perimeter guard which prevents the spread of the stump grindings and other debris. Wainwright Stump Removal can remove stumps up to 600mm below ground level. The resulting grindings may be used to fill in the cavity left behind, and any extra grindings can be used as mulch. If you want the grindings completely removed from your property, please inform us on quoting, as this process incurs an extra charge. To find out more about the prices for stump removal, contact Wainwright Stump Removal today.